Mobile App
10 Mobile App Development trends you should know before 2022.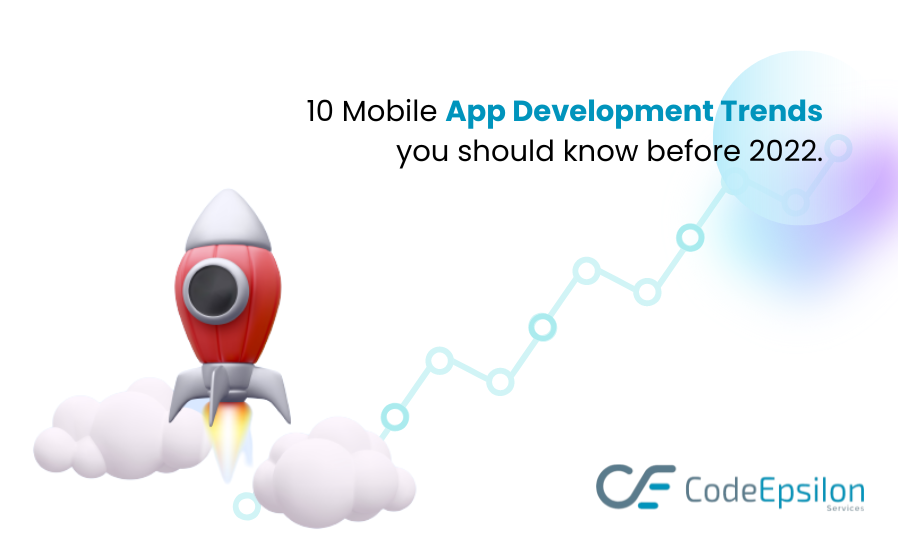 According to a survey, the Global spending on mobile apps is $34 billion in 2021. The number of app downloads on the Google Play Store is 27.6 billion. These numbers show that this market is booming in a very rapid way. Now you have apps for anything and everything. There are many weird things that we have as an application like clicking this button, Placing I have pooped, Pimple proper, click it, there are numerous weird applications available on the internet.
Mobile app development should have functionalities that are trending because this market is very much evolving day by day. This market is also highly competitive. If you want to survive in this market you should keep pace with your functionalities and development. You should follow the latest trends in the functionalities of your mobile app development.
Is your mobile app development backed up with the latest trends in the market?
Latest trends in Mobile App Development
1. Internet of Things (IoT) associated with apps
IoT is in its initial stage and this market is creating drastic changes in the lifestyle of people. Check out our blog on You can perform several tasks like switching lights, setting the temperature of your oven, locking or unlocking your front door, security controls of your home, and many different things from your smartphone.
The global spending on IoT is going to be $1.1 trillion by 2023. Your mobile app development should contain functionalities that can Sync these IoT devices.
2. 5G
The rollout of 5G technology has started in 2019. For mobile app developers, this technology is considered poised, because this technology is going to change how applications were developed and used. There can 10x times decrease in latency, increasing the efficiency and traffic.
This will directly lead to boosting the functionalities of applications. This technology will allow developers to add new features to apps without any negative impact on current performance.
3. Application for foldable devices
Days are back when we have foldable devices. This device is increasing day by day. The first foldable device was the Royale Flexpai in 2018 after that there are various foldable devices like Samsung Galaxy Fold, Huawei mate x, Motorola Razr, and many more.
Mobile applications should be developed by keeping in mind the screen ratios, compatibility, of this device, and applications should be tested on these devices also.
4. Development for wearable devices
The use of wearable devices are increasing day by day. There are several different devices like smartwatches, trackers, and fitness bands but these devices are yet to reach full potential. After the announcement of the Apple Watch OS 6, many functionalities in mobile app development are developed by keeping in mind the wearable devices.
5. Beacon technology
This technology is very beneficial for the industrial sector. Beacon can add advanced functionality to any app. This technology was introduced in 2013 and its evolving day by day.
What is beacon technology?
Beacons are small transmitters that use low-energy Bluetooth technology which sends signals to nearby devices. This technology is useful for store owners they have to install beacons over the store. This beacon will send messages regarding ongoing offers to the person who has installed the application whenever the users are nearby the store. Beacons can also be helpful in tracking the behavior of the customer in the store.
6. Artificial intelligence
This technology is evolving day by day and making changes in our daily lifestyle. There are several AI's like Siri, Alex, OK Google, and many more. Nowadays the trend is going on that every app has its own AI which can run functionalities by voice search. There can be many functionalities that can be backed by AI like face detection, image recognition, speech recognition, predictive maintenance, text and image classification, and a lot more functionalities.
All of this functionality will be automated or voice searched. This makes the application smarter and better for performance and gives more comfort to users.

7. Mobile wallets and Mobile payments
Mobile wallets like Google Pay, Samsung Pay, and Apple Pay are trending right now. People are sending payments in just clicks and people are getting acclimatized with this system. According to forecasters, there will be $13.98 worth of transactions in 2022. Mobile wallets and mobile payments have become an integral part of the mobile application and every application should contain this functionality.
8. Augmented reality or Virtual reality
Augmented reality is evolving day by day and this technology is also backing up many functionalities of mobile apps. L'oreal Paris has introduced an AI-based application for hair in which you can turn on your front camera and the application will suggest to you hairstyles by showing the actual hairstyle on your device. They have also developed an AI-based makeup application that runs on the same functionalities but it's for makeup.
There is a lot of functionality that you can offer for your mobile application because of augmented reality and virtual reality.
9. Chats Bots
Chatbots serve as assistance to users with any support queries. Nowadays chatbots have AI integrated which can chat and solve queries like humans only. Every application should contain chatbot functionality for solving any query. The Global Chatbot market is growing by 24% every year. 25% of mobile applications have chatbots as the functionality. The global market of chatbots is estimated to reach $1.25 billion by 2025.
10. App Security
The foremost question that comes to mind after using any application is the security of your personal information. There should not be any shortcuts when it comes to the security of data for users. This should be the foremost priority of the app owners. People don't prefer sharing personal information on third-party apps because of the possibility of data leakage. That's why developers have started adding features like Google sign-in, Facebook, Apple id, linked-in, and many other options. These sign-ins are protected with two-factor authentication.
As you can see all of these functionalities are backed by the latest trends and all of these trends are evolving day by day. All of these technologies are in the beta stage so it's the perfect time to adopt this functionality because if you do it later that later never comes and you will be ahead of time if you will adapt these functions right now.
Conclusion
The demand for marketplace apps is rising. These apps are beneficial for all. These apps are win-win apps. With benefits comes competition it is a very competitive market. For surviving in this market you need to introduce a quality product that solves certain needs of your targeted audience. Overall if you follow these 8 steps for app development you have better chances of success. Don't be afraid to make mistakes and upgrade your application when needed moreover listen to customers' needs.
Additional Read from CodeEpsilon Business Dais