IT Consulting
Why should every Company consider an IT assessment?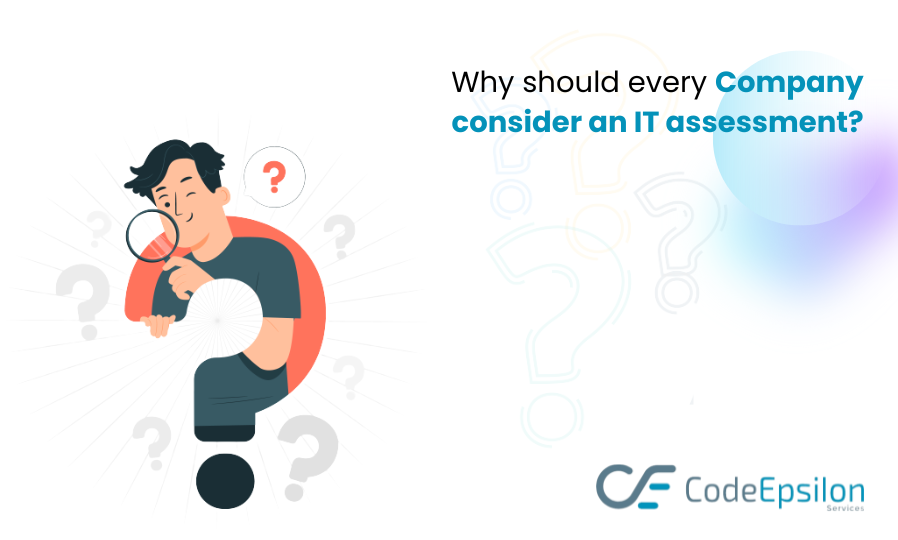 If you want to maintain your car's performance, you get assistance from the mechanic. If you make investment decisions, you get financial aid from a financial advisor. This same physiology applies to the Information Technology(IT) Sector. If you want to make strategic business decisions, you get the assistance of a professional service provider of IT Assessment.
An IT assessment would be convenient to get the big picture and undertake the best decisions for your business. An IT Assessment can provide a brief insight into your current IT status and the most potent improvement suggestions.
Let's get a clear understanding of what an IT Assessment is
It is not just about recommending suitable hardware or antivirus software; an IT Assessment program is created to analyze your IT infrastructure and workflow to guide various IT and cybersecurity areas. Ultimately, the main objective of IT Assessment is to optimize and build effective IT systems to reduce expenses, lower risks, and increase governance and protection. Simply put, it provides authorization on what's working and not.
The why factor explained
The main reason to undertake IT Assessment is the constant change associated with technology intensity; even the tech-savvy, cutting-edge companies periodically equate advancements in the context of their current IT status and big industrial goals. 
The technology that sustains your everyday operations needs routine support and efforts to maintain the ratio of accurate performance. Whichever technology supports your business procedures are most likely a constant running engine. That engine requires maintenance in the proper time frame, along with expert guidance.
IT Assessments assist companies in disclosing whether or not IT is helping in their future stepping goals and provide the answer to whether it is appropriate spending. It also gives brief insights into the current IT department's innovation and lack of factors. 
Moreover, inadequacy can often arise even after applying the best efforts to downgrade the risks. An efficient IT Assessment will help determine what is working in favor and what is not favoring the Company, along with explaining the rational insight.
A potential IT Assessment will provide the following insights into some significant concerns:
How sufficiently does your utilization of technology sustain your comprehensive business strategies and company pursuits?

To which extent does your present IT situation align with technology's best approaches?

How solid is your Company's safety position?

What is your strategic plan if any natural crisis arises?

How does your Company spend IT expenses compared with other companies in this industry?

What points should your Company consider to design improvements to your IT Situation?

Here are several ways by which the IT assessment will prove beneficial to your organization.
The Benefit factor explained:
Is there anything more important than your clients' vulnerable information and data? A professional risk assessment must protect your firm and your clients. This focused approach will strive out data protection risk points and deliver learning concepts on high-risk behavior on your network.
Regulate safety requirements
The best section of the risk assessment procedure is the workable intelligence that you can combine throughout the entire You can utilize this information to assemble new safety policies and detect unknown network risks. A network risk assessment is as crucial as every other segment of your system. It will help you associate with your colleagues and clients in one spot.
Draw a touchstone of performance
Without correct measuring instruments, how will you get to know if you are successful? An assessment will guide you through setting a standard of performance that you can always consider as your success point. If things went below the touchstone, you would know that some issues need to be fixed. By drawing an early touchstone of performance, you will get a preview of upcoming security risks or insufficient strategies.
Understand your inventory
Are you familiar with every piece of technology that you own? What does it do? How does it function? Is it the best alternative for whatever you are using it? An IT Assessment will guide you to get a clear vision of your acquired inventory of hardware and assets. 
Planning an adequate IT Budget
When planning your IT budget, you will require relevant information to justify your expenses. Assessment will provide insights into possible consequences if you don't make accurate decisions. With the help of this, you can weigh the ups and downs of undertaking the decisions while planning your IT expenditure. 
The IT sector is the only segment where long-term is very beneficial with target pursuits and a detailed timeline of objectives. Whether you already have the service of an in-house IT department, you can still benefit from the outside resources available when planning vital things like crisis recovery, business consistency, or future goals.
A productive IT assessment will highlight all the opportunities your business misses in enhancing efficiency. There may be some hold-up situations where the users in the ongoing demand period are causing a lack of performance or breaches in service.
Start your IT Assessment with CodeEpsilon
Those mentioned above are just some handy benefits from the expert IT Assessment provider–CodeEpsilon. This easy-to-acquire service will prove revolutionary to your organization and change your perception of operating your business strategies. Contact us and set up your Company for a bright future.
Additional Read from CodeEpsilon PMO Dais